Sponsorship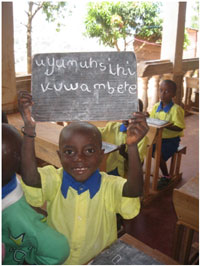 We began a sponsorship scheme for our pupils in 2009 for all related costs to educate the children in the nursery and after when they leave us to go to Primary School.
Regular donations will ensure the long-term sustainability of the project.
We ask for monthly donations to pay for school uniforms, note and textbooks, pens and art materials etc, staff salaries tax and social security, house taxes, utilities and materials and tools for the upkeep of the grounds and facilities etc.
The scheme works in two ways. Some donors are happy to donate on a monthly basis for the benefit of any child; others prefer to have a name and some information about a particular child. We are happy to provide information and a photograph of individual children.
We have to make difficult choices when trying to decide which children should have sponsors. We have several criteria which assist our choice. We begin with the level of poverty, then family status (orphans and single parent families have priority). We also asses academic ability as we hope, should the children be successful in the Primary School National Examinations, that individual sponsors will continue to support the children through Secondary education.
All the children we choose are too poor to pay the costs incurred by attending local schools. The families have, at best, casual work occasionally. Some of the women have worked in the sex trade, others perhaps collect rubbish or work as manual labourers to earn small amounts of money for food. All live in the local area.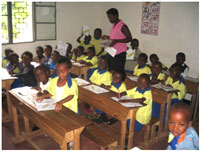 The cost to sponsor a child for one year is £240/$360 or the equivalent in Euros. The monthly cost for sponsorship is £20/$30. Please pay through our Virgin Money Giving site and add a note to say it is for sponsorship. We can provide a name, a picture and the story of a child for you if you wish. Please contact us to ask for details at [email protected]
If you wish to pay directly into our Bank Account – the details are as follows:
Bank: HSBC New Market Street, Ulverston, Cumbria LA12 7LH, United Kingdom
Account: Kinamba Community Project
Account: 51394037
Sort Code: 40:45:01
IBAN Number: GB37 MIDL40450151394037