Hannah and Niall visit the Meg Foundation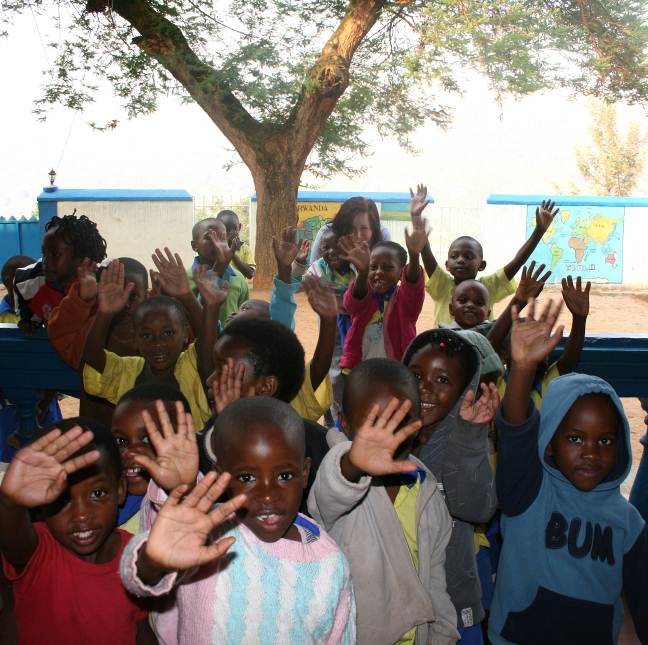 My arrival at the Meg Foundation was not one that will be forgotten easily, the staff greeted me with such open arms and warmth I felt at ease almost immediately. When Niall arrived a few days after me our adventure in Rwanda had officially began.
Our first weekend was somewhat longer than we had first expected as the Friday was Independence day for Rwanda, then the following Monday was Liberation day, and Epiphanie was kind enough to escort us to the Amahoro (Peace) Stadium for the celebrations where we not only got to see the Police Force and Army Troops at their best, we also witnessed the cultural dances of Rwanda and listened to Paul Kagame make a speech about the previous troubles that the country had and how they overcame them.
The few weeks leading up to Nicola and Marian's arrival were mainly spent exploring Kigali and it's cafés as well as getting to know the school's students, staff and its routine. Niall also started up his English lessons with some young adults from the local area.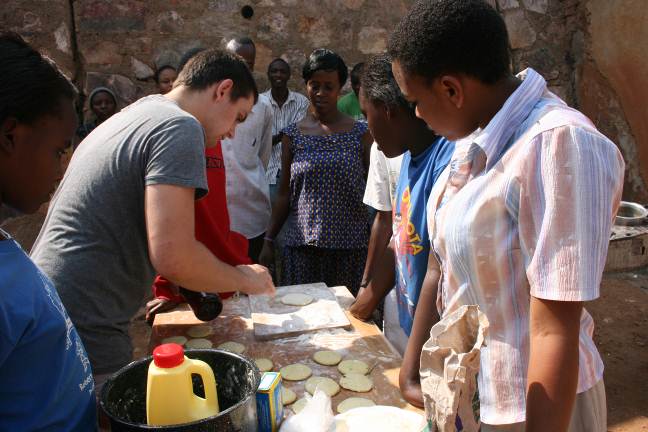 [Niall making chapatis with his class]
When Marian and Nicola finally arrived the school had almost finished for the holidays, so the few days they had with the students were spent wisely. The school finished for the term with an assembly where the students proudly displayed their reports of the examinations they had undertaken previously.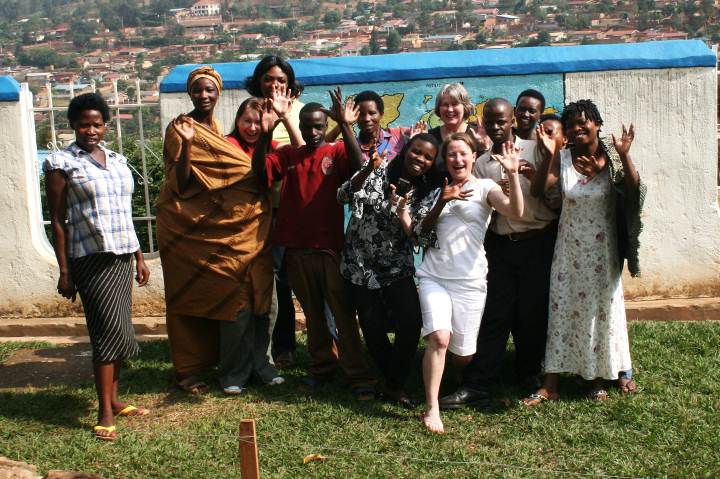 Even with lessons over for a few weeks the school was still a hive of activity; Niall's English class was still going on, Nicola's teacher training was now taking place, Marian and I invited the Primary children back to help with their English in the morning, and some ladies from the Co-operative had started coming in the afternoon for hand-knitting lessons.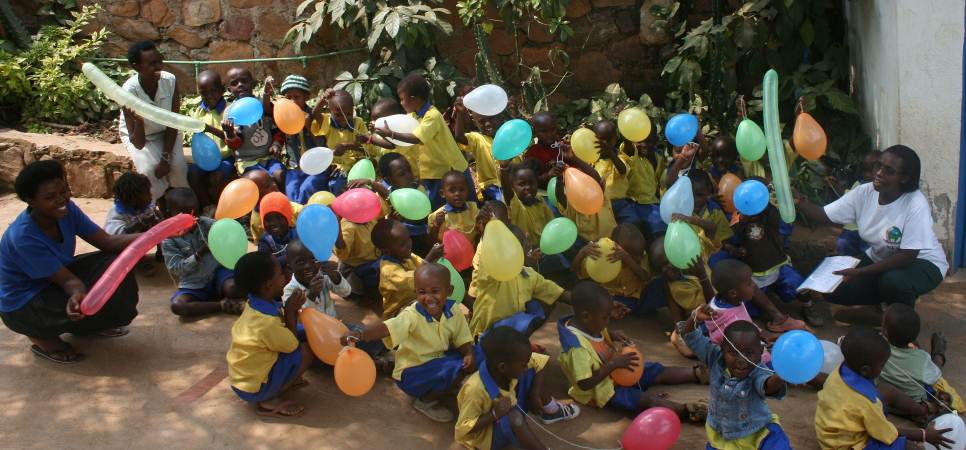 [The children and staff enjoying their balloons!]
The second month of my being here was certainly packed full of experiences, the sun shone nearly every day (although it must be said when it rains it certainly does pour over here!) so the days when we didn't have anything planned were spent sitting out in the sun watching the many various different birds. Some of the many different things we did over this month include; being invited to lunch by two members of staff and meeting their families. Going to the two well known markets in Kigali and being shown how to negotiate like a pro. Swimming at the Hotel Mille de Collines. Hiring a car and driver and taking a trip to Akagera National Park, spending Umuganda (the last Saturday of the month) cleaning the back playing field, Niall and Nicola going to Uganda, Marian going to see the Gorillas and much, much more.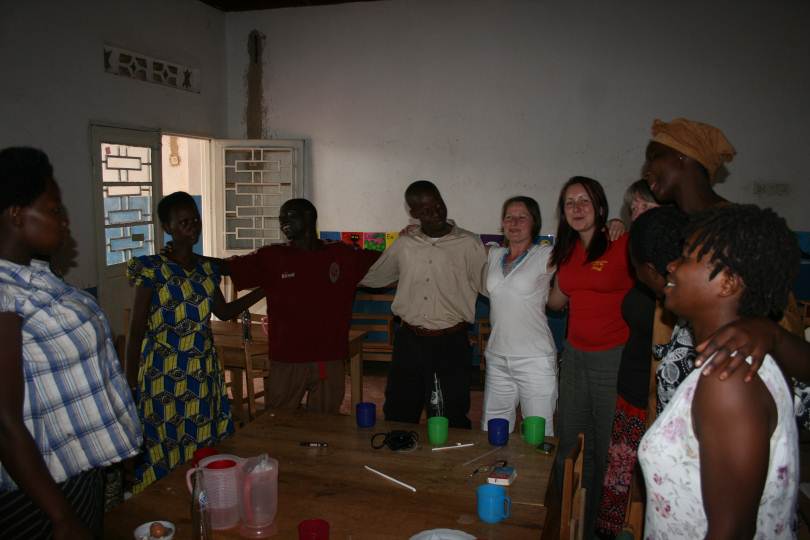 When it came for Marian and Nicola to depart all of the staff got together and prepared a meal for us all where speeches were made, songs were sung and jokes were shared.
So now we are half way through our third and final month, with plenty of things planned for the second half and looking back upon everything we have done has really made me appreciate what an experience we have had, and what an amazing place the Meg Foundation is. Meeting Meg has actually been one of the highlights of my being here. Since her arrival walls have been knocked down, walls have been painted and people have come and gone giving their thanks and sharing with us pieces of their history and how the Meg Foundation has changed their lives for the better. Seeing Meg in action sorting through paperwork and various trips back and forth to different offices has also helped me understand that opening and running a foundation like this is no simple task, the work and energy she has put in to making the foundation what it is today is nothing short of phenomenal.
Hannah-Marie Piazza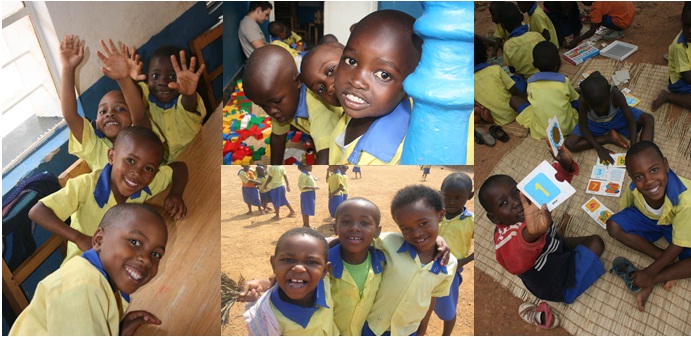 A day in the life of a Meg Foundation Volunteer.
Waking up and subsequently getting out of bed is not voluntary in the Meg Foundation, there is an alarm clock just outside your bedroom, the alarm clock isn't always the same but it is ever present. One morning it could be Francoise knocking on your window to say Waramutse (Good Morning), the next morning it is likely to be the early arrivals running past screaming. The next it will be our next door neighbours sawing some wood (If this occurs it usually begins at about 5 am). At first this is a shock to the system but as time goes by it becomes almost therapeutic.
So what next? Usually the next job is to make yourself look respectable then at around 8am the whole school lines up at the front of the school to sing the National Anthem. The Students then sing a song in English the lyrics are.
I am Student I am Student
I study I study
In the Meg Foundation In the Meg Foundation Nursery school.
This 5 minutes of the day will be sorely missed on my return to England, mostly due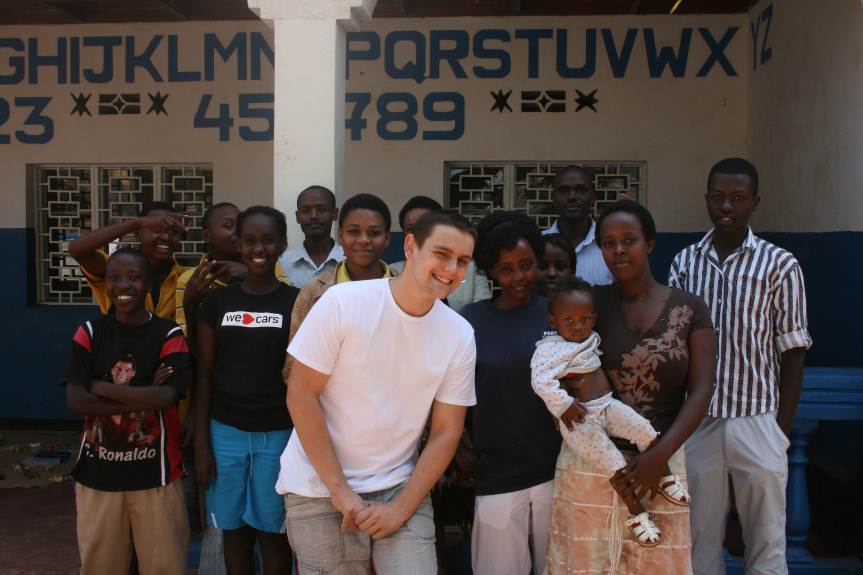 to the singing of a fantastic little lad in Nursery 2 who sings every word like he won't have another chance. After this I complete preparations for my English lesson as my students come in. They usually all arrive by 8:30am which is when the lesson fully kicks off. My lessons have been the highpoint of my time here, watching my student's progress has been fantastic. At 11 O'clock the lesson finishes. At which point I will usually go into Nursery 2, taught by Claire, an extremely energetic young teacher. Nursery 2 is brimming with characters and they were the group I fell in love with on my arrival. Sadly soon after I arrive in Nursery 2, the children must leave. This is when the main body of the feeding programme takes place. In the afternoon I usually end up working with Primary 4 students. Because of the timetabling at their main schools there are two primary 4 groups. Both are full of characters and great to work with.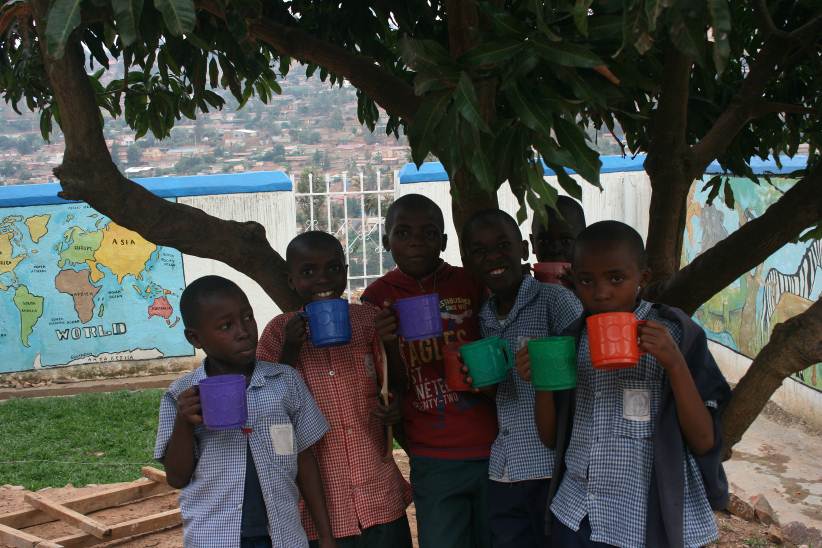 Here is a picture of one of the groups excluding a couple of children who weren't in on the day we played with my camera.
The primaries usually fill my time until 5 O'clock as we usually end the day with a game of football.
Recently the preparations for Founders Day have been in full swing so once we finish playing football we go onto the back playground and dance. (I say "we" but due to a lack of talent and rhythm, I try my hardest not to join in.) We have seen the hidden talents of many of the students and a few of the cooperative ladies since these preparations begun, especially a primary 3 boy, who has shown brilliant ability when dancing and playing the drums. Once rehearsals are over we have dinner cooked by Francoise. It has been a treat to have such a wonderful cook during our stay here. This usually takes us to about half past 6 at which point we go off to our rooms to prepare for the next day, watch a film and eventually sleep. It's a hard life I know. All of my days here have been absolutely fantastic and I'd like to thank Meg and her fantastic members of staff for making our time here so enjoyable.
Niall Smith