A day in the life of a volunteer at Kinamba Project
The first sound of the day is the morning chorus wafting in through the open window as I lie under the mosquito net trying to snatch a couple of hours extra sleep. But, the day starts when it gets light in Kigali. It's not long before I hear Francoise, our wonderful cook, cleaning and tidying for the day whilst she hums and sings. I know it's definitely time to stir when the gate-bell rings as the staff start to arrive (the bell is right outside my window!). Soon there is the sound of children running around, chatting, laughing and playing before school starts at 8.00.
Meg has already got the coffee on so time for a quick slurp and a piece of fruit or bread before facing the world. I always make sure I go round and say "Mwaramutse" (good morning) to all the staff. They make me try a few more phrases to help improve my Kinyarwanda. Then one of my favourite moments of the day when I pop into to nursery 1 class to say good morning. The 3 and 4 year olds all shout response in unison: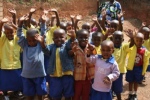 "Good Morning" – "Good Morning"
"How are you today?" – "Fine thank you"
"Are you happy?" – "Yes, I am happy"
"Good bye" – "Good bye"
They all wave as I leave the classroom and most of them chase after me to shake my hand. Tamar, their teacher, gets their attention back after the interruption from the Muzungu (white person).
I spend most of the morning with the tailors. Over 90 of the local adults have received tailoring training at Meg Foundation. A group of thirty of the class graduates have decided to set up as a co-operative to make a living from their new skills. It is my job to help them with business skills to help ensure success. At the moment the tailors are using the premises and equipment at the school, but eventually they will need to rent their own premises and purchase their own equipment. The co-operative has an elected management team of four, only one of whom speaks English. It's an interesting challenge. The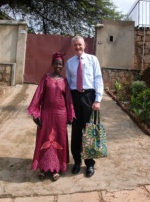 Rwandan people are, by nature, very hard working; but the people in the co-operative are not used to decision making, budgeting and promoting themselves. My job is to get them to recognise that it is their responsibility to manage their new enterprise, there is no-one else to find business for them, come up with new ideas or tell them what to do. Progress is steady and promising. I have taken Mary, one of the team, to meet prospective new customers and now the management team have started to think about how to continue the process and consider new product lines. I was really pleased when I learned that they had taken the decision to approach a local school with a view to making the uniforms for them – they asked me along to the initial meeting! Their main activity will be in providing handicrafts for the local tourist trade and for export, but local tailoring will be an important income stream too. It is pleasing that a new hotel just opening in Kigali has offered the co-operative the chance to supply their handicraft shop – this will be an important and continuous income stream. Incidentally, Meg and I have a fine range of the co-operative's handicrafts available for sale in the UK!
I always take time in the morning to pop into Nursery 1, especially when the lego bricks are out. All the children are keen to show me the models they've made and try to get my attention by calling out "Meg, Meg" – it seems that to 4 years old all Muzungus are called Meg! It is interesting to follow the progress they make as the days pass, constructing more complex shapes and discerning the colours. It's fascinating too to see how quickly they become comfortable in their new surroundings and start to learn under Tamar's patient guidance.
One thing that really strikes me is how happy all the children are (and the adults for that matter). I usually meet at least one of the classes whilst they are on their morning play break and I usually get mobbed as all the kids try and shake my hand and cling onto my legs! Come lunchtime, the younger children go home and the primary classes arrive for the afternoon session.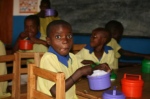 There are about 50 of the most undernourished children that are given lunch. I've done some sums which show that each meal costs about 15p, so little money to us but so important to the children. Every child is given a mug of porridge every day, and that costs us just 3p per child per day. This is a great example of the extra impact the school is making in the community, over and above the provision of a great education. Poor old Francoise spends the whole day over the stove preparing lunch and 2 huge bowls of porridge – and then there's the washing up!
My afternoons are usually spent on school administration duties. Today I need to get all 200 children's registration details in order. That means ensuring that we have a paper record and photograph of each child in each class. That's not as simple as it sounds, as most of the names are really unfamiliar and some children seem to have more than one name. It's very rare for (what we call) the surname of the parents to be the same as the child's, or the child's siblings. In addition children leave occasionally and new children start. Today I'm nearly there, switching the records to the computer and getting the teachers to tick back the names to the class registers. There are still one or two irregularities to sort out, but the job will be complete in a couple of days.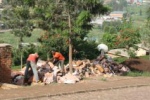 Today there is some building work going on. A wall is being built at the rear of the property to help ensure that the steep mud banks don't collapse in the rain. A huge load of big stones has been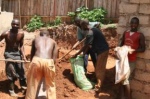 dropped outside the front gate and a group of local men are carrying them in on their heads – really thirsty work in the sun. Another group of men is smashing them up and starting to build the wall. It's incredible how hard these men work and remain cheerful in the blazing Rwandan sun. When you talk to them, they are just pleased to have the opportunity to work, enabling them to feed their families today. It's important that all materials and workers are sourced locally to keep the money in the local community.
It's soon 5 o'clock and the primary school kids queue at the gate to go out and meet their parents. It's a pleasant afternoon and I decide to take a break and head into Kigali. I catch a mototaxi (motorbike) outside the school for the short ride into town, which costs me 50p. I head for the supermarket to stock up on tea, loo rolls and washing powder. Then it's off to relax at Bourbon Coffee – a starbucks type coffee house with an open terrace with views over Kigali, great coffee and free wifi. This is my escape and little luxury that helps keep me sane! It's expensive to drink or eat here by Rwandan standards and it really is a little expat enclave. But it's interesting being one of the few "poor" Muzungus mixing with the business people and Rwandan middle class. I head back to the school for dinner with Meg and Karen (a volunteer teacher from the US).
Francoise has prepared my favourite banana chips tonight – great with ketchup! We chat over the events and dramas of the day before heading to our rooms to read, prepare lessons, and waste time on the computer. Today there have been no power cuts and the water is still running, so life is good. I think of all the happy children and adults who are in their own homes sleeping, all looking forward to a more prosperous and sustainable future just because a few people in the world care enough to support us financially. I wonder what they would be doing if Meg Foundation school didn't exist – my guess is that some would be living on the street, some begging, some getting into trouble and worse. I have seen with my own eyes what a great impact is being made by Meg with the funds available – and none of it is wasted. Every penny ends up educating children or adults, feeding the vulnerable kids and helping extend and secure the premises for future generations.
I can't wait to come back!
Chris West.