Sun and smiles in January !!
Lovely to be back and see everyone again.
Tuesday January 20th 2009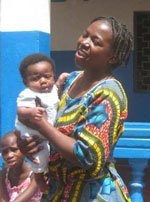 A very special day for the tailoring class. We have our first graduates. They have completed 6 months training and we had a celebratory presentation of certificates, the people wearing the new outfits they
have made for themselves. They are now so proud and confident, it is lovely to see how much they have changed.
Thanks to that initial grant from Globalgrassroots the tailors are on their way. The new group starts this week.
Huge excuse for singing, dancing and eating!!!!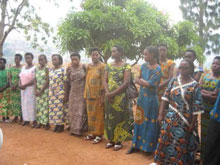 Here are most of the women in their new outfits. I hope that now they can earn enough to live with dignity and feed their children.
More news about the school and the children soon.
I wish you all a very happy 2009 and thank you all for your continuing support, our website on its way, watch this space…. Love and peace to all, Meg