February News 2010
The beginning of the New Year gave us a headache – too many children wanting places and no room to accommodate them! Tamar had done a great job during the holidays – she had visited the people in the local community, encouraging the poorest families to enrol their children in the new nursery class. We phased the entry so that things ran more smoothly and all went well. Such a shame we do not have enough space to take all the children who need to be in school.
We have new staff also. Evariste left us at the end of the last school year and we had an additional class.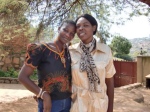 We welcome Epiphanie and Elianne. Epiphanie on the left is teaching Primary 3. She has nine year's teaching experience and she is studying at night for a degree.
Elianne is a newly qualified teacher and is teaching Primary 2.
Epiphanie is a very strong support and good organiser and has been a big help in building the team. The school is now a happy place, with everyone working hard to help each other and provide the best possible chance for our children. The staff now have porridge in the morning and several staff eat at lunchtime. This has made a big difference to them.
Through the generosity of sponsors, two of our assistants are studying for a teaching qualification. Their secondary education was disrupted by the genocide, but now they can go back to school finish their studies. Primary teachers in Rwanda need to go to secondary school only so these two women go after work for five hours a day and eventually can be employed as teachers. Andre, our guard, is also being sponsored to go to university. He goes at night after work. The commitment of these three is an example of just how much education means to many Rwandan people – all they need is a chance.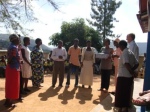 Here the staff are saying goodbye and thank you to Chris, who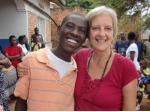 worked with us for 2 months.
And on the right is our new assistant, Toussaint, a genocide orphan who now has a chance to earn a little money and enjoy life more.
And so for the children – when I look now at the activities we do on a daily basis, I realise just how far we have come from that dingy room with no equipment and nothing much else to do but listen to the teacher. We are engaging the children in many more activities to make them think and participate in their own learning. We have introduced 'special person' who is in charge of everything which needs doing that day – the children love that idea and take their duties very seriously – giving out books, collecting pencils etc.
Let the pictures tell the story of what we get up to nowadays – beginning with the new intake in Nursery 1
And our activities!
With special thanks to our generous friends who have provided games and materials and money to buy our new maths books.
The tailors and some of the students in the literacy class were presented with their certificates in late January.. This means a great deal to everyone and the certificates are greatly prized. Our agreement with Globalgrassroots organisation ended with this third group of tailors. For the moment we are concentrating on developing the new co-operative, formed by some of the former tailoring students.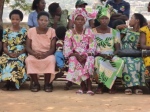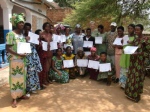 The students are dressed on the outfits they made during their training. We have trained 90 people over eighteen months and we have had a good time, forging new friendships and enjoying learning a new skill. Thank you to the Globalgrassroots organisation for making this possible.
I have a very personal interest in the basic literacy classes we organise for adults. Some of the people, having learnt to read and write, have continued to go to tailoring class. They are very proud of their achievements and rightly so.
Immaculee, on the left, works with us in Nursery 1. She is so thrilled to be able to read at last. Clementine, on the right, is a great goalkeeper in the women's football team and makes lovely necklaces and other jewellery.
And finally, we had some special visitors from Utah State University. They came to see us and to talk to some of the parents about the school and what it means to them and the community. Here we are enjoying a traditional Rwandan mélange at one of my favourite restaurants – all we can eat for £3 or around $5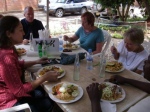 The parents were eager to talk about the school and its impact in the community – the benefit to the children and themselves, some of whom also attend classes. Amongst the many things they said was that they had noticed how the children's behaviour had changed since they started school. The large majority of these children would otherwise not be in school, without hope of changing their lives. Now they have hope, along with other family members, of a brighter future.
I know I say this often, but, on their behalf I thank you most warmly for all your love, generous support and kindness. We do the best we can with the money we have and we are changing the lives of people in our community. We have come a long way in two years, just over 200 children in school, continuing classes for youth and young adults, supporting some in further education, many people are now working and earning money to feed their children and live with dignity, improving lives and standards of living.
Thank you all, for financial donations, for working with us in Rwanda and working for us in many places across the world to raise funds and spread the word about us. I am most grateful; I could never have imagined that we would achieve so much in such a short time.
Wherever you are, I wish you love, peace and happiness in your lives.
My very best wishes to you all,
Meg.