School's in!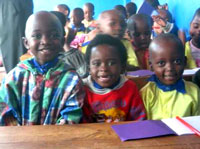 So, January and a new year starts. Big problems, because Evariste was bombarded with requests for places. Around 40 or so more children than we could accommodate arrived during the first couple of weeks.
Evariste had a hard time refusing and one parent, when told there were no places, went to the carpenter and arrived back at school with two new chairs saying, "now you have places for my children…."
We now have five classes, three in the nursery and Primary one and two. It was good to see those children who started with us,
now growing up and in Primary two. I tried to see just how many children we have in the classes on Tuesday but some of the children had decided that they did not want to move up a class and preferred their old one; some were outside so it was a little difficult. 
Let's just say that we have not been able to stay strictly within our limit of 30 for each of the nursery classes, but that remains our policy!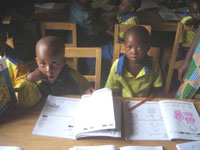 Otherwise we have made a good start, we have books and materials and the children are busy. In Rwandan schools normally the terms get off to a slow start and there is a lot of time spent 'reviewing' I am hoping to persuade the teachers that we know enough about what the children have already learnt and we can move on a little now.
Good to see them all again, lots of smiles and a lovely welcome.
We have one new teacher and I plan to do some more training while I am here this time. We have bought new reading books for primary one and two, thanks to the students of Shawnee State University and new Kinyarwanda writing books courtesy of friends in Dublin.
Our plans to refurbish classrooms will have to go on hold, because we have a major problem with rainwater which is washing away the garden and undermining the wall. To fix it with water tanks to catch water and repair the damage will be expensive, but we can use the water for washing and cleaning and the other things will have to wait.
We have increased the number of children who eat at lunchtime. Evariste had the brilliant idea of weighing the children in October, before they went on holiday. Sadly several of the children had lost weight by the time they came back, which is not good news, so we
will make every effort to do something about that this year. Our sponsorship programme is growing now, and some of that money will pay for food, we need to think about building a kitchen when we can find the funds.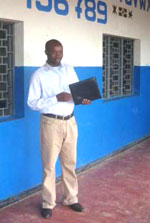 Here is Evariste welcoming everyone, showing off our lovely new blue paint, courtesy of Gareth. We are looking every more professional as time passes. We are full of optimism. We know we have a long way to go, but we are growing all the time
now, in both the child and the adult projects. The second group of tailors has started their training and the adults are beginning to find
markets for the goods they make. I had brought some money back to pay for things sold in the UK and the USA and it was lovely to see some of that money being paid to the school to help to pay for food.
We now have the first pages on our website, http://www.kinambaproject.org.uk I think it is looking very good and I hope you like it. Meanwhile, thank you so very much for your
continued support for us, it means everything. Thank you Helen at Cavell Group www.cavellgroup.com
Meanwhile life goes on as normal and I leave you with Alphonsine, Evariste's wife and teacher in Nursery 2 on washday – Saturday – a family affair as you can see.
Love and peace to you all in 2009
Meg